About

Research

People

Events

Join us

Impact
Nick Woods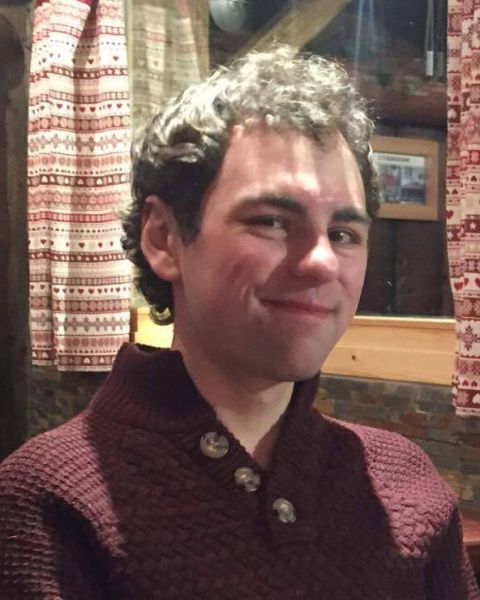 Nick Woods
Member of Clare College
PhD student in Dr Hasnip's group

Office: 543 Mott Bld
Phone: +44(0)1223 3 37466
Email: nw361 @ cam.ac.uk
ORCID: 0000-0002-5913-2206
TCM Group, Cavendish Laboratory
19 JJ Thomson Avenue,
Cambridge, CB3 0HE UK.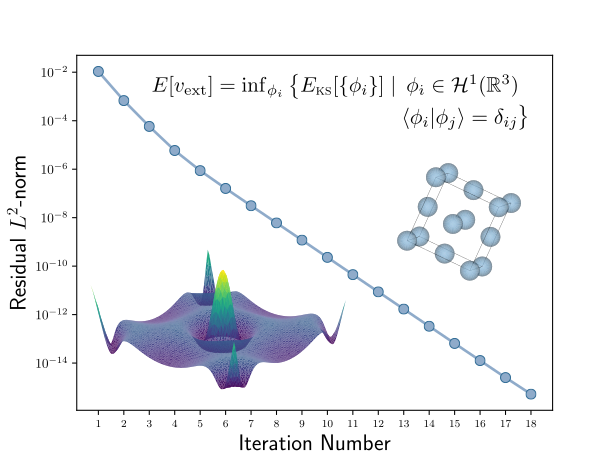 Research
My research concerns the development of methodology utilised in computational implementations of Kohn-Sham theory. However, this methodology is not strictly limited to Kohn-Sham theory, and my interests lie in all levels of electronic structure theory and their computational implementation. My current research, and the focus of my most recent thesis, involves improving the efficiency and robustness in which self-consistency can be achieved in Kohn-Sham DFT.
Kohn-Sham theory is a constrained optimisation problem: find the infimum of the Kohn-Sham energy (objective) functional over a set of allowed one-particle densities (the feasible set). This problem can be solved with direct minimisation methods; that is, minimise the objective functional explicitly with respect to allowed variations in the density (matrix). Alternatively, one can formulate the associated Lagrangian problem, and solve the resulting Euler-Lagrange equations. This route leads to a non-linear eigenvalue problem (the Kohn-Sham equations), which can be solved with numerical fixed-point algortihms.
The concept of `optimal' is ill-defined for self-consistency algorithms, as there are competing measures of utility: robustness and efficiency. Moreover, assessing the utility of an algorithm requires a set of inputs that is representative of all sources of numerical difficultly. My current work is focused on the creation of a work-flow that aims to fairly assess self-consistency algorithms. This involves the construction of a test suite of Kohn-Sham inputs that are difficult to converge, and hence allow one to systematically define `optimal'.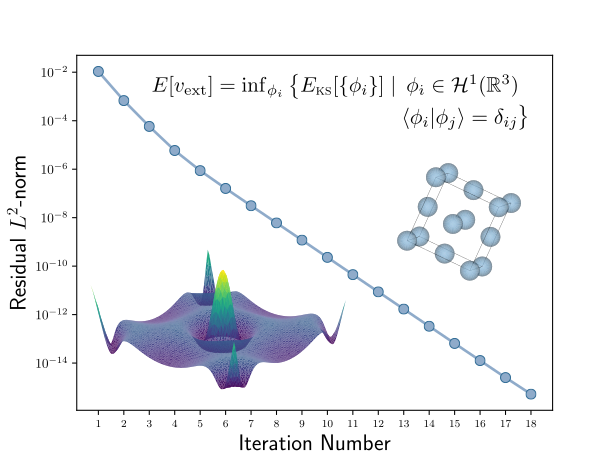 In Plain English
Quantum mechanics is a theory that has been exceptionally successful in describing and predicting natural phenomena. Hence, knowing the precise 'quantum mechanical' description of electrons (hereafter referred to as the electronic structure) within a material provides a wealth of information about the material. For example, mechanical strength, opacity, electrical and thermal conductivity, etc. Solving the equations of quantum mechanics to obtain this electronic structure, however, is a difficult task. The computation required to obtain such a solution becomes prohibitively large for even just ten particles (far less particles than in a typical material). Hence, I work with a reformulation (and approximation) of quantum mechanics that allows the calculation of the electronic structure in a feasible time-frame on a computer. In turn, the aforementioned material properties can be calculated. Specifically, I work on refining the computational implementation of this theory for best performance.