The control and coordination of cell proliferation and fate specification is central to the development and maintenance of tissues. In development, systems must be tightly-regulated to ensure that precise numbers of lineage-specified cells are generated in the correct sequence whilst, in adult, a delicate balance between proliferation and differentiation is essential to ensure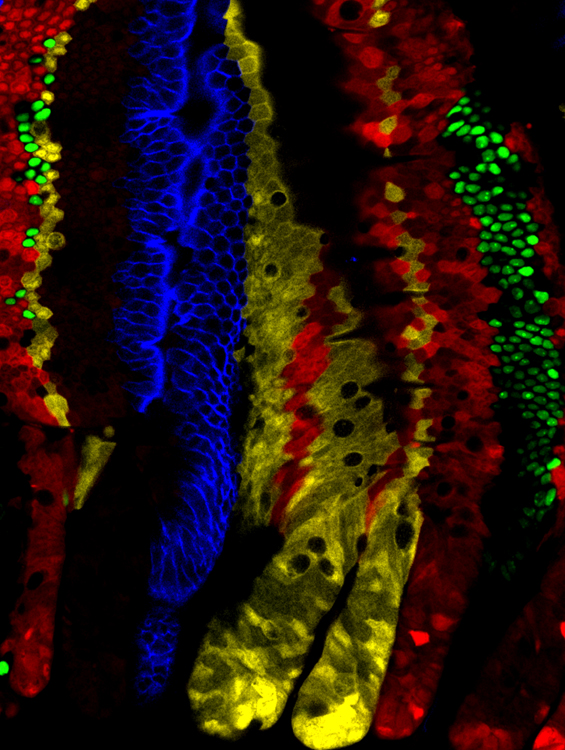 homeostasis. Through a broad programme of multidisciplinary and collaborative research, our group is interested in establishing unifying principles of stem cell regulation in the development and maintenance of tissues, and to use these insights to resolve pathways leading to dysregulation in diseased states.
Theories of adult tissue maintenance place stem cells at the apex of proliferative hierarchies, possessing the lifetime property of self-renewal. In homeostasis the number of stem cells remains fixed imposing an absolute requirement for fate asymmetry in the daughters of dividing cells, such that only half are retained. Fate asymmetry can be achieved either by being the invariant result of every division or by being orchestrated from the whole population, where cell fate following stem cell division is specified only up to some probability. These alternative models suggest different mechanisms of fate regulation, yet their identification in most tissues has remained elusive.
To study stem cell fate behaviour, emphasis in the literature has been placed on inducible genetic labelling using transgenic animal models. In this approach, the activation of a fluorescent reporter gene can be used to mark a targeted cell population and their differentiating progeny. By adapting methods based on non-equilibrium statistical mechanics and population dynamics, our group has shown that, from the quantitative analysis of marked cells and their labelled progeny - termed clones - the lineage hierarchy and fate behaviour of stem and progenitor cells may often be recovered. Using this approach, we have resolved the pattern of stem cell self-renewal in a variety of adult tissues, from epidermis and oesophagus to the intestine and germ line.
To further develop this programme, we are involved in a variety of on-going collaborations with partner experimental labs studying the stem cell self-renewal in brain, epidermis, lung, mammary gland, oesophagus, prostate, retina, stomach, and trachea. To pursue this programme, we make use of a variety of cell lineage tracing strategies in human as well as other animal models, from in vivo live-imaging and inducible genetic labeling to natural occuring mutations in mitochondrial DNA. Current collaborators include Erika Bach (drosophila germ line), Laure Bally-Cuif (zebrafish brain), Cedric Blanpain (epidermis, mammary tissue), Lazaro Centanin (zebrafish retina), Hans Clevers (intestine and brain), Bill Harris (zebrafish retina), Jie He (zebrafish retina), Rakesh Heer (human prostate), Sam Janes (human lung), Phil Jones (oesophagus), Joaquin de Navascues Melero (drosophila midgut), Bon-Kyoung Koo (stomach), Emma Rawlins (trachea), Jacco van Rheenen (intestine), Hongjun Song (brain), Jochen Wittbrodt (zebrafish retina), and Shosei Yoshida (germ line).
Alongside research into the maintenance of adult tissues, the group has interests in understanding how stem cells regulate the late-stage development, repair, and regeneration of adult
tissues. Alongside the use of transgenic animal models, we are also making use of lineage tracing and live-imaging methods to study the development of tissue explants in culture. Current collaborators include Cedric Blanpain (mammary gland, prostate, and heart), Graham Burton (human placenta), Michel Cayouette (retina), Robin Franklin (central nervous system), Bill Harris (zebrafish retina), Rick Livesey (human cortical cultures), Ashley Moffett (human placenta), Jenny Nichols (pancreas - development and disease), Anna Philpott (pancreas - development and disease), Songhai Shi (neocortex), and Fiona Watt (dermis).