INSTRUCTIONS FOR DAY 2, EXERCISE 2
Crystalline SiO2 systems ( cristobalite , quartz and coesite )
See Article J. Am. Chem. Soc., 125 (2), 541 -548, 2003. doi:10.1021/ja027124r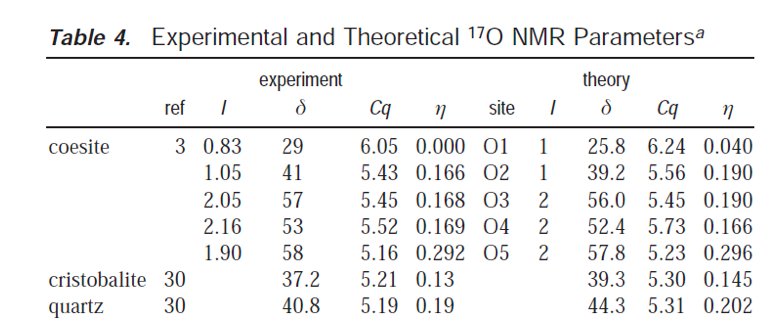 Cristobalite : cristobalite_P1 Convergence of EFG / NMR parameters
Perform the SCF calculation , NMR and EFG calculation
Check the convergence of the EFG / NMR parameters with respect to the energy convergence

&ELECTRONS
conv_thr=1D-12
/

Try conv_thr = 1D-6, 1D-8; 1D-10 and 1D-12.
Plot theVariation of EFG / NMR with the cutoff energy

&SYSTEM
ecutwfc = 80
	/

Variation of EFG / NMR with the number of k points

  K_POINTS automatic 
 1 1 1 1 1 1 

Try 1 1 1 1 1 1, 2 2 2 1 1 1 (and 4 4 4 1 1 1 for overnight calculation )
You can try NMR simulation program with calculated parameters in nmrsim
Perform SCF / EFG / NMR calculations with coesite and quartz.
NMR Spectra simulation directly from PWSCF output (Optional or Wednesday)
There is simple NMR simulation program in directory nmrsim for simulation of spectra for a single site. See Instruction in files INPUT_README.xml and README.
GIPAW NMR Data Processing (Optional )
PWSCF output can be directly processed to generated input files for a NMR Simulation program called gen_xNMRSIM as well as to generate Principal Axes System for information. See README file in cristobalite_NMRSIM for Instructions.