Jian-Hao Li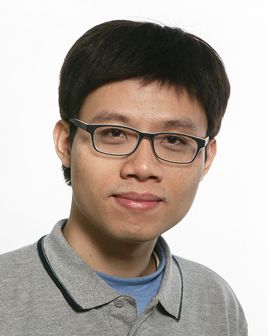 Jian-Hao Li
College: Clare Hall
PhD student in Dr Hine's group

Office: 524 Mott Bld
Phone: +44(0)1223 337459
Phone (internal): 37459
Email: jhl52 @ cam.ac.uk

TCM Group, Cavendish Laboratory
19 JJ Thomson Avenue,
Cambridge, CB3 0HE UK.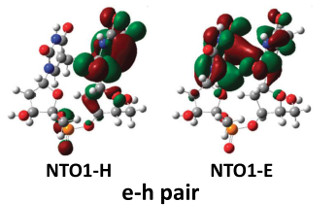 Research
My research interests lie mainly in electronic excitations of molecular systems (bound excitations) and metallic systems (plasmons). To this aim we develop and use novel electronic structure methods to describe the quantum behaviour of electrons in many-electron systems. I have been studying the electronic excitations of both small molecules such as oxirane, which is involved in a photo-induced ring opening reaction, and large systems such as DNA segments and protein molecules, that participate in several interesting excitation-driven processes which nature has evolved over billions of years, such as the ultraviolet light induced damages of DNA molecule and the efficient light-harvesting complexes in photosynthesis.
Quantum mechanics is essential for an appropriate description of the electronic structure and optical properties over hundreds of electrons of a huge system. Density Functional Theory (DFT) for the ground state and the time-dependent DFT (TDDFT) for excited states take centre stage in my research, as they provide reliable yet computationally tractable quantum simulations. I am also interested in developing theoretical methods/techniques incorporating advantages of other theoretical methods such as Many-Body Perturbation Theory and Coupled-Cluster Theory. Fox example, this kind of incorporation has been able to improve upon approximate exchange-correlation functionals used in DFT/TDDFT calculations. Moreover, recent development of linear-scaling (LS) DFT/TDDFT has facilitated the study of ever increasingly large systems. In this regard, we have based our research on the platform of the LS-DFT/TDDFT code ONETEP.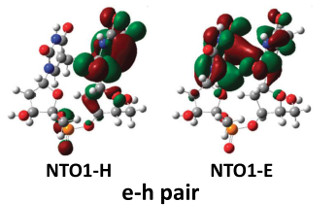 In Plain English
Numerous delicate biomolecular processes/reactions exist in organisms, some of which are initiated by light absorption. For example, it is known that some skin cancers are caused by the damage of DNA molecule after exposing to the UV light. My research interests concentrate on how the electrons redistribution of materials upon absorbing light – the so-called electronic excitations – spawn various reactions of the material. The reactions can be partly from the electrons and partly from the much heavier and thus slower nuclei.
Various approaches may be adopted for a description of these quantum processes. However, for a huge number, e.g. hundreds, of atoms the DFT/TDDFT methods may currently be a better choice where computational effort is acceptable. Yet many theoretical developments can still be done in this field to improve the current methods which are also interesting research topics.